About Chad LeJeune, PhD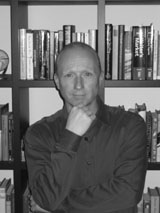 Dr. LeJeune is a professor of psychology at the University of San Francisco. He has more than 30 years experience treating people with anxiety problems. He is a founding fellow of the Academy of Cognitive Therapy, and was among the first clinicians to receive training in acceptance and commitment therapy. He lives and works in San Francisco.
Private Practice
Dr. LeJeune offers compassionate, focused, research-supported treatment for individuals and couples using both Cognitive-Behavioral Therapy and Acceptance and Commitment Therapy. He specializes in the treatment of anxiety-related problems.
His office is located in downtown San Francisco, near the city's historic Ferry Building at the foot of Market Street:
388 Market Street, Suite 1010
San Francisco, CA 94111

Muni/BART: Embarcadero Station
To schedule an initial consultation, please call (415) 826-7366.